Danny Carmo's Mathematical Mysteries
Yesterday, our P5-7 children had the pleasure of watching the incredible Danny Carmo perform his mathematical magic! Everyone, including the teachers were mesmerised by his astounding tricks! The spectacular show combined maths, theatre and digital technology to create an exciting and interactive performance proving that understanding maths can be fun and magical!
Oliver
We recently showcased our wonderful production of Oliver. All of the children and staff worked extremely hard in preparation for the three performances. A DVD of the production can be purchased from the school office.
Primary School Athletics
Today twelve of our P6 children represented Glenwood at the Primary School Athletics competition at Mary Peters Track. The children had a go at a few Olympic events including the javelin, sprint and long jump. Everyone had a great day!
Dance Festival
P.4 Dance Club attended the DU Dance Festival in Belvoir Players Studio on 17/05/2018. The girls danced to a song by Dixie Chicks called 'There's Your Trouble'. Mrs Griffiths would like to commend all the girls on an excellent performance and showing great enthusiasm throughout the year!
Girdwood Sports
Last week, our P6 children had the opportunity to take part in a variety of sporting activities organised by Belfast Met at Girdwood Community Hub. The children enjoyed obstacle races, boxing, football and basketball.
Action MS Sponsored Walk
Before Easter, our P4-7 children took part in a sponsored walk at Belfast Castle to raise money for the charity Action MS. We raised a total of £3558.90!
Today we had a visit from Action MS to thank everyone who took part and the children were given certificates to acknowledge their hard work.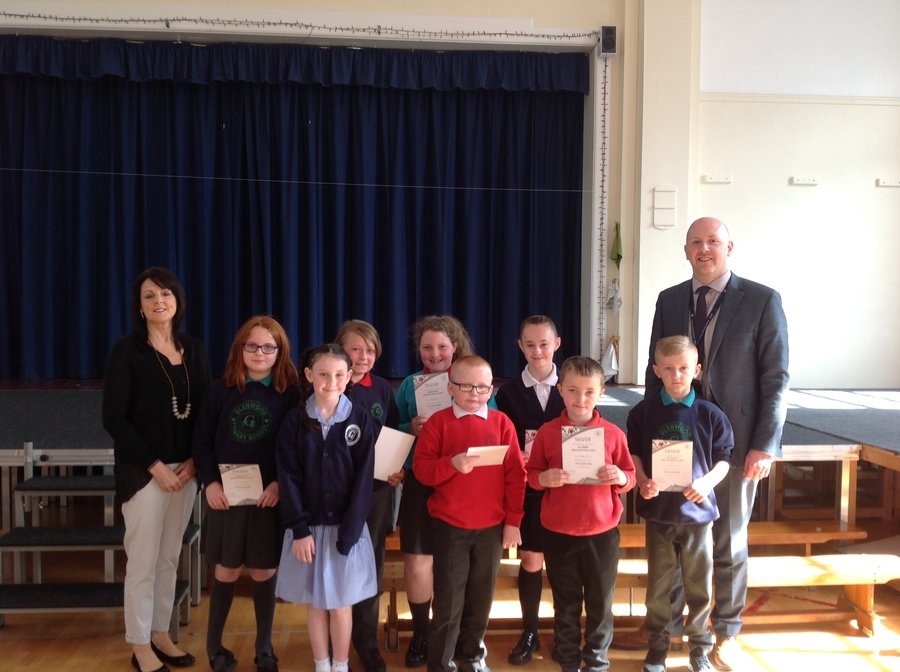 P7 Science Fair at Boys Model
On Wednesday 24th April P7 Mrs McDaid went to the Boys Model to take part in a Science Fair.
They had worked hard during the year learning how to make an experiment fair, how to make a prediction and hypothesis and how to accurately record results.
After choosing which experiment they would like to try they had to practise in class and then, at the fair, demonstrate their knowledge to the judges who were all scientists in their own right.
Kenadie and Louisa-Jayne were the winners in our class but everyone in the class did very well and Mrs McDaid is extremely proud of them!
Imaginative Writing Exhibition
All of our children and staff worked extremely hard for this year's exhibition. We decorated the assembly hall with wonderful examples of creative writing and art work. As you can see from the pictures, each year group had their own take on the magic theme which created a fantastic display!
Stem Aware
Our P6 classes completed a lego workshop with Stem Aware. The children were encouraged to work in groups to complete a variety of building challenges using lego. The challenges included building a chair, a flower and a tower. Prizes were given to the winning groups and some of our children were chosen to attend a STEM competition along with other schools in the near future.
Dr Funnybone
We kicked off our Imaginative Writing Week with a visit from Dr Funnybone last week. Our theme this year is magic so we invited a magician to Glenwood to share some tricks and puzzles with each year group. The show was spectacular and amazed us all... even the teachers were blown away by his magic powers! Some children had the opportunity to be Dr Funnybone's assistant and others even got to be a part of the trick. Look out for more magic coming to Glenwood this week!
Duggie Dug Dug's Crazy Science Show
Doug (Duggie Dug Dug) Horley and his fantastic assistants visited Glenwood last week to share his crazy science show with our P4-7 pupils. We invited some pupils and teachers from Edenbrooke Primary School to join us for the show. Doug shared a number of messy science experiments and songs with a special message about God and His love for us. We all thoroughly enjoyed the show and hope to have him come visit us again.
CBBC spots Glenwood Talent
Recently, a team from CBBC visited our P6 classes on the hunt for enthusiastic gamers and problem-solving masterminds! Three boys from P6 Shields (Brandon, Jai and Carter) were chosen to take part in a new television show called 'The Last Commanders'. The boys used their problem-solving skills to complete a variety of space tasks and managed to complete their mission! Well done boys! You can watch the last commanders on Tuesdays at 5:30pm on CBBC.
Peaceful Schools International
A few classes from P7 and P6 classes had a visit from students from St Mary's University in Canada. Through role play activities and classroom discussions, they explored the impact of prejudice and discrimination. They discussed critical thinking, conflict resolution and empathy and also had the opportunity to learn a bit about each others' cultures and traditions.
Health Awareness Week
Last week was 'Health Awareness Week' in Glenwood. In our lessons we learned about what it takes to stay fit and healthy. In our homework we reflected on what we can eat to have a balanced diet and what we can do to have healthier hearts. Many classes used last week as an opportunity to create some delicious healthy treats such as fruit salads, skewers and smoothies. We also challenged ourselves in our P.E lessons to get our heart rates up through circuits and other games. We all had great fun and feel a lot better for it!
On Tuesday 19th December, we had a Christmas jumper day! We each brought 50p and donated this money to the Northern Ireland Children's Hospice. We had a fantastic day and raised lots of money.
British Council Commonwealth Class Writing Competition
The British Council asked us to help launch the Commonwealth Class writing competition. We had a photo shoot at our school for the press release with Myra Zepf, Queen's Children's Writing Fellow for Northern Ireland, who will judge the writing competition.
The Commonwealth Class programme is a resource for teachers with classroom activities celebrating the values of the commonwealth such as citizenship, human rights and youth empowerment. Open to pupils aged 7-14 years and from across the Commonwealth countries, the Children's Story writing Competition aims to promote creative writing with the entries being displayed online.
There are three separate categories: 7-10, 11-14 and one for teachers writing stories for children, with this year's competition based around the theme of peace.
Competition Choir sing at City Hall
On Thursday 14th December in the grand surroundings of Belfast City Hall some talented children from Senior Choir teamed up with children from St. Peter's choir and performed in front of a packed auditorium. The event was presented by BBCs Noel Thompson and was attended by a host of acclaimed Northern Irish musicians.
The choir performed to an extremely high standard and received much praise from across the board. We would like to thank our representatives from the Board of Governors who attended and also the dedicated parents who came along and supported us on the night.
The school was awarded a £250 bursary to spend but unfortunately we missed out on the top prize this year. However we left with full hearts and plenty of Christmas cheer.
Special thanks to the competition choir members; Asha Phillips, Charlie Kernaghan, Darcey Parkinson, Louisa-Jayne Blair, Shanice White, Jamie Sinfield, Rhys Barns, Benjamin Palaghiu, Lauren McCullough and Alex Redpath.
Glenwood Glee spread the Christmas cheer!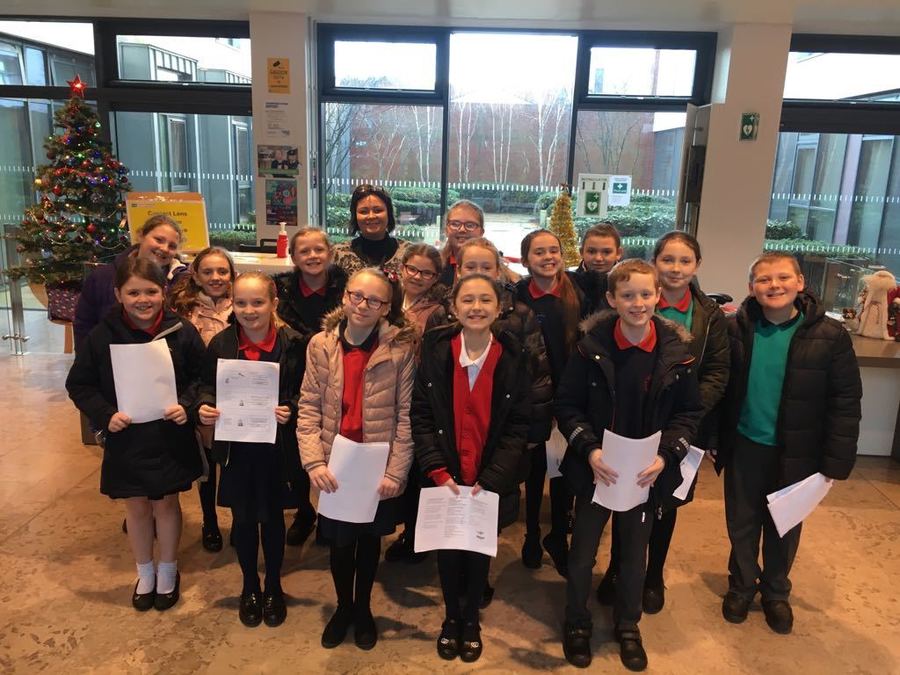 Glenwood Glee have had a very busy festive season this year. We have had so much fun spreading Christmas cheer in our local community. Our bookings included Bradley Manor, Tennant Street Care home and The Shankill Wellbeing Centre. We had so much positive feedback and the crowds that gathered to see us were keen to join in and sing along. We even stopped at on Glee member's door on our way to Bradley manor and treated a parent to a rendition of Jingle Bells.
Thank you to Mrs McCorriston, Mrs Parks and the children of Glenwood Glee who are a talented and dedicated bunch.
Seasons Greetings
School Council gets active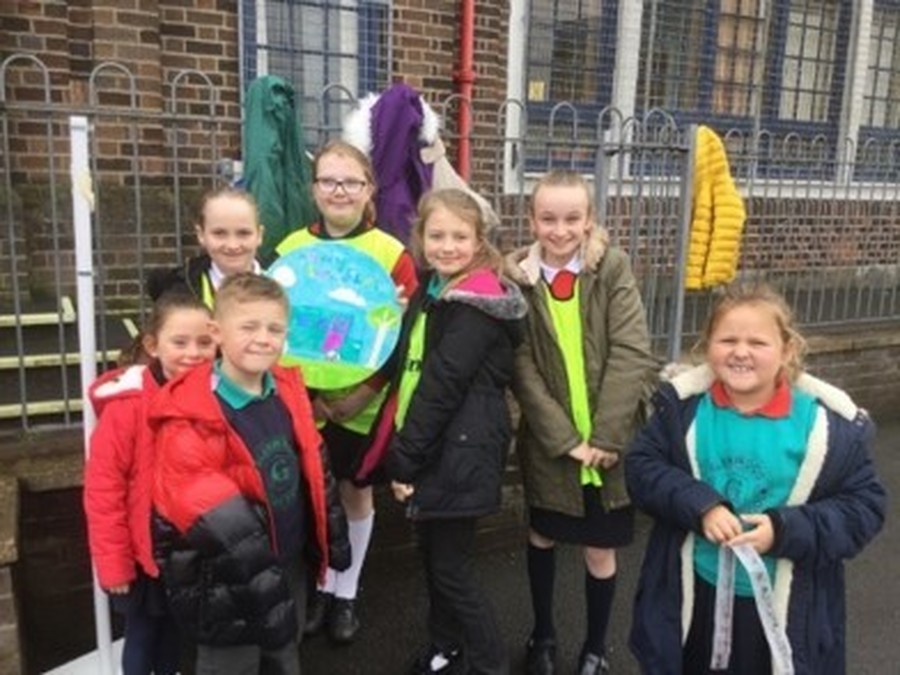 Anti-Bullying Week ran from 13th to 17th November. School Council organised Friendship activities for everyone to take part. We made friendship posters, bracelets and displays. Pupil Voice read friendship stories to younger classes and organised a 'friendship stop' in the P4 playground at lunchtimes. The P4 children enjoyed playing with the older children. It was great fun! Well done to Lauren McCullough (P6S0, pictured below for designing a fantastic friendship stop!
School Council Trip to Stormont
On Thursday 23rd November, Mrs Dunwoody, Mrs Ritchie and School Council took a trip to Stormont. We had great fun playing in the park before heading up the big hill to Stormont building. We were puffed out when we reached the top! James, our guide showed us around. It was huge and very fancy! We went into the main room where debates take place. We had a debate about school uniforms and got to meet two local MLAs, one of which was William Humphries, who was a pupil at Glenwood. Abbie, our Chairperson got to sit in the Speaker's chair!
Basketball Tournament
Some of our P6 children attended a college basketball tournament. They watched three exciting matches and enjoyed some pizza and treats afterwards.
British Council International School Award
After successfully achieving the foundation level International School Award last year, we were encouraged by the feedback we received and we were inspired to apply for the full accreditation award. . We were able to collaborate with other schools in a number of internationally-themed projects which improved our pupils' understanding of what it takes to be a global citizen. We also benefitted from time with a Spanish language assistant thanks to our involvement in the British Council's 'Around the World in Story Tales' project.
We, as a school, our extremely proud to have been awarded the British Council International School Award this year and we are committed to maintaining our international status in the future.