Remembrance Day
Remembrance Day
9 November 2018 (by admin)
As this year marks 100 years since World War 1 ended, our pupils and teachers decided to make this year an extra special Remembrance Day.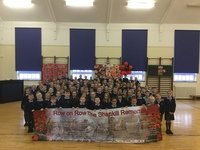 Our pupils have been learning about why Remembrance Day is so important and have also been incorporating the poppy into their art lessons. Our Junior Choir (P4 and P5) visited Tennent Street Care Home this week to sing some war time favourites to the residents and staff. Our P6 and P7 pupils also led a Remembrance Day assembly by reciting poems, stories and facts about the war. We also had some beautiful singing from our Senior Choir and Reverend Duncan gave us a special Remembrance Day message and led us in prayer.
To see more photos, please clink on the link below to go to the new page of our school website.