Christmas Concerts
Christmas Concerts
20 December 2018 (by admin)
Our P1-3 and P7 classes kicked off the Christmas celebrations with their Christmas concerts last week. Follow the link to our school website to see more photos and videos.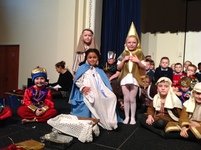 P7 Christmas Play

The P7 classes performed 'Scrooge' for their Christmas play this year. They sang and acted in their own version of the play and certainly looked the part! The audience were blown away by their acting and singing talents, especially the solo performances.

P1-3 Christmas concert
Our P1-P3 children performed their nativity play last week. Our P1 children dressed as snowmen, singing and dancing to a variety of wintery tunes and reciting poems whilst our P2 classes sang and danced along to Christmas songs, featuring a special guest appearance from Santa's less well-known reindeer, Blitzen. Our P3 classes told the story of how Jesus was born and taught us the real meaning of Christmas.