A play in a day
A play in a day
15 March 2019 (by admin)
On Wednesday 13th March, our drama club took part in the 'play in a day' production .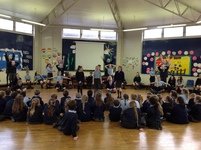 The ensemble production was directed by Sinead from Konflux Theatre, a theatre company based in England. The children had no knowledge of the 'Rainforest' themed script until the end of the play. The children had a wonderful day and performed their play to the P5 children and teachers who were all very impressed with their wonderful acting skills and sound effects.
Follow the link to our website to watch a video below of their wonderful rainforest sound story and to see some pictures.