P6/P7 Irish FA Futsal Tournament – Belfast Section
P6/P7 Irish FA Futsal Tournament – Belfast Section
22 March 2019 (by admin)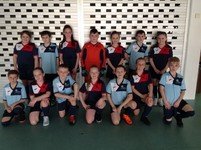 On Wednesday 20th March, some of our P6 and P7 boys and girls took part in the Belfast section of the IFA's Futsal competition.
The groups games saw both teams coming away with 2 wins, 2 draws and 2 defeats meaning both teams finished 4th in their respective groups and qualified for the semi-finals. A special mention to Lewis Baker (P6) who scored all 4 goals in a 4-0 win against Lowood, a very difficult task considering the game lasted 6 minutes.
Finishing 4th meant that both the boys and the girls played against the teams who finished top of the league tables. The boys played against St. Bernard's while the girls played against St Clare's.Both teams put in a lot of effort throughout the day but unfortunately both teams were beaten in the semi-finals.
Every pupil who represented the school were excellent throughout the day and showed great sportsmanship. Everyone at Glenwood is very proud of both teams.