Oliver Twist
Oliver Twist
24 May 2019 (by admin)
Today we had a special treat with a visit from Shoogalie Road Productions.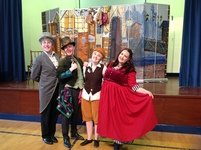 They performed Oliver Twist, singing the famous tunes from the musical and making us all laugh with their portrayal of the characters. We all really enjoyed their performance!
Follow the link to our website for more pictures and news.