Young Enterprise Trade Fair
Young Enterprise Trade Fair
3 June 2019 (by admin)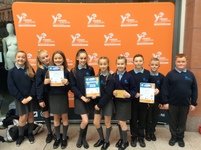 P7 O'Hare and P7 McDaid took part in the Young Enterprise Trade Fair in Victoria Square on Friday. Both classes took a team of pupils from their businesses to show off their sales talent and sell their products to the public. P7 had a wonderful product called 'Just Dough It' which was a mixture of multi-coloured, plain and scented play dough. P7 McDaid had some very mysterious 'Lucky Bags' which contained a variety of different items. Both teams worked tirelessly to entice the public to their stalls to purchase their products. It proved to be a very successful day as there was very little product left.
To top off a fabulous day, P7 O'Hare's business picked up the 'Pete's Pick' award. This award was chosen by Pete Snodden from Cool FM who chose his favourite overall product from the many that were on sale throughout the day.
Follow the link to our school website to see more photos.