Multiplication Masters P5 & P6
Multiplication Masters P5 & P6
12 February 2020 (by admin)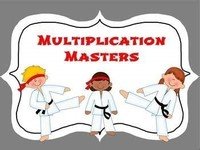 Quick recall of multiplication facts is important to support children's learning in Maths.
To help encourage children to learn these facts, we have devised a programme that rewards each stage of learning.
If children get 66 questions correct in 5 minutes, they receive a coloured band. The colours are based on the karate belts, meaning that the black belt is the hardest to achieve.
To date, we have 4 children who have managed to achieve the black band, and we look forward to many more achieving this as the year progresses.
BIG WELL DONE TO – Emma Otley, Lauryn Currie, Tanya Cooke and Sophie Little
Please support the children at home by encouraging them to learn the tables regularly as practice makes permanent!
An extra challenge for those pupils that achieve the black band, is the opportunity to go for Gold!! The children will have to be efficient in all division and multiplication facts.